It was a pretty good month for book pick-ups. Half-Off sale at our favorite thrift store never hurts things and neither does the fact that an author I reviewed an ARC for recently liked my review so much that he sent me copies of the rest of his books.
For Kindle:
The Air Raid Killer

Why I got it: My choice for Kindle First this month.
eARC:
The Incredible Secrets of Hadley Hill & The Heart of Abshire House
Why I got it: My friend wrote these books and was looking for more reviewers to read them, so I signed up right away. Review of the first book should be coming later in May.
Angst:
Angst, Buried in Angst, Drowning in Angst, Burning with Angst
Why I got it: This is the coolest story. I wrote a review for a book called Clod Makes a friend (see it here) and the author sent me this great note after the tour was over:
"I received a lot of great reviews through the book blog tour, and I appreciate all of them. Hands down, yours was my favorite. It means everything when someone gets my writing. Honestly, it's far more important to me than sales. Thank you."
Then he offered to send me the rest of his books, no strings attached (although I probably will be reviewing them.) But really this kind of feedback from an author really makes my heart sing. It's what us reviewers live for. David is also on Twitter, follow him at @got_angst .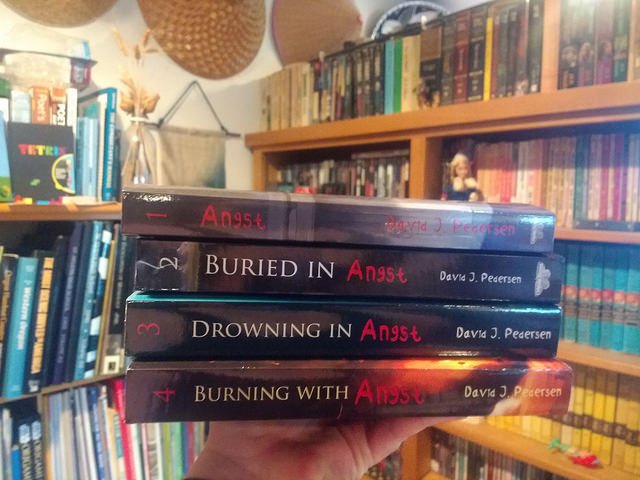 Kids Books:
The Berenstain Bears Blaze a Trail
Why I got it: Bought it at a game store because we are friends with the owner and I have a thing for picking up Berenstain Bears books.
A Tale About Tails (Dr. Seuss/The Cat in the Hat Knows a Lot About That!)
Why I got it: It was the Easter basket book for the 7 year old this year.
Little Critter: Just a Teacher's Pet
Why I got it: We went to our favorite local book store on Children's Picture book day and the 7 year old picked this one out.
Pirate Mom (Step into Reading)
Why I got it: It's a Step 3 which is the level the 7 year old is currently reading at.
Little House in the Big Woods
Why I got it: It was half-off at our favorite thrift store and I was surprised when I looked it up on my LibraryThing to find I didn't already own this one.
Thomas Jefferson: (Childhood of Famous Americans)
Why I got it: Again half-off at the thrift store, and I try to collect these Childhood of Famous Americans books whenever I find them.
Escape from Fire Mountain
Why I got it: I HAD NO IDEA THAT GARY PAULSEN HAD ANOTHER SERIES. So naturally I had to buy it, because it's by GARY PAULSEN.
Misc:
Tales of the Not Forgotten (Storyweaver)
Why I got it: Was my text book for KidMin academy in April. It was a great read!
Love's Silent Song
Why I got it: A thrift store pick up, and not my typical sort of thing but it was made by a local publisher so I'm going to keep it.
Love Is a Gentle Stranger
Why I got it: Same series as above.
The Private Life of Spiders
Why I got it: My husband is super weird and pretty much got this book just to freak his (grown) sister out.
Matarese Circle
Why I got it: It was in the ten cent book box and I occasionally like a thriller.
The Fountainhead
Why I got it: Also in the ten cent book box. 😲 
Raft
Why I got it: Sorry to sound like a broken record, but it was also in the ten cent book box. Later I found out it was Stephen Baxter's first book.
Illusion: A Novel
Why I got it: I really like Peretti and hadn't read this one yet and… Say it with me "it was in the ten cent box."