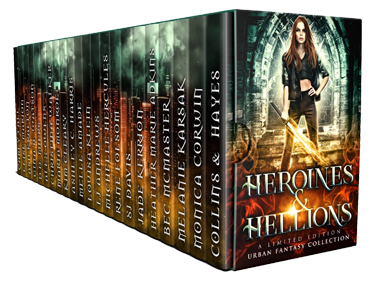 Heroines & Hellions: An Urban Fantasy and Fantasy Collection
Publication date: January 2nd 2018
Genres: Adult, Fantasy, Urban Fantasy

These 99 cent Kindle collections can really wreck a persons TBR, meaning you have to have them ALL. There's nothing like adding 22 books to your TBR at a time. AND THEN you discover new author's and new series and you have to go get more books. 😉 Seriously, though it's a great deal and you should get it while it's hot.
Synopsis:
NO DAMSELS ALLOWED!
22 Kickass Heroines.
22 Exclusive, Full-length Urban Fantasy and Fantasy Novels.
0 Damsels in Distress.
Do you like your leading ladies to save the day…or raze it?
No matter which you prefer, this set is brimming with 20 magical stories (many BRAND NEW) told by some of the leading voices of urban fantasy and fantasy in the industry, including several New York Times and USA Today bestselling authors!
If you want strong female leads who strike back against the captivating worlds of vampires, elementals, fiends, and paranormal monsters, then you're ready to charge into the adventures of HEROINES & HELLIONS, a pure Urban Fantasy/Fantasy collection!
Grab your stake, silver bullets, and your limited edition copy of HEROINES & HELLIONS today!
Goodreads / Amazon / Barnes & Noble / iBooks / Google Play
This killer line up includes:
New York Times bestselling authors Margo Bond Collins & Erin Hayes
New York Times bestselling author Monica Corwin
New York Times bestselling author Melanie Karsak
Award-Winning author Bec McMaster
USA Today bestselling author Heather Marie Adkins
USA Today bestselling author Jade Kerrion
USA Today bestselling author SJ Davis
Award-Winning author Rene Folsom
USA Today bestselling author Michelle Hercules
LJ Andrews
Louisa Klein
USA Today Bestselling Author Melle Amade
Award-Winning author Ashley C. Harris
Award-Winning author Kim Cleary
Maria Monroe
Christina Walker
USA Today bestselling author Alex Owens
Award-Winning author D.D. Miers
Gina A. Watson
USA Today bestselling author Ash Krafton
Elise Marion
Award-Winning author Carly Fall