The Van Winkle Project Trilogy
by Karri Thompson
Published by: by Entangled Teen
Genre: YA Dystopian

THE VAN WINKLE PROJECT Trilogy
This trilogy looks soooo good! I love dystopian stories and this one sounds like a unique one. Since the first book is on sale for 99¢ I've already bought it, and I WILL find time to read it. Check out the full series below and grab Mirror X while it's on sale.
MIRROR X
(Book 1)
Synopsis:
I was born more than a thousand years ago.
Put into a cryogenic tube at age seventeen, forgotten during a holocaust that decimated the world, I've finally been awakened to a more serene and peaceful future.
But things at the hospital are new and strange. And it's starting to scare me.
Everyone is young. Everyone is banded and tracked. And everyone is keeping secrets.
The cute geneticist Michael Bennett might be the only good thing in this crazy new world where "life is precious" but no one seems free to live it. The problem is, I don't think he's being totally honest with me, either.
When I'm told only I can save the human race from extinction, it's clear my freeze didn't avoid a dreadful fate. It only delayed the horror…
MIRROR X is 99¢ for a limited time!
Amazon / iBooks / Nook / Kobo / Goodreads
ASCENDANCY
(Book 2)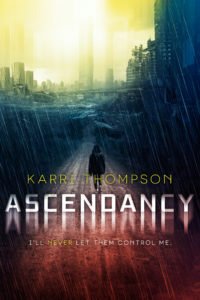 I've been lied to, deceived, and manipulated—again. You'd think I'd be treated with dignity and respect. I'm the one who's supposed to save humanity, right? I'm the one with the power to re-populate this dying world. But the clones want to control me, force me to give birth over and over again. And my daughters will face the same fate—unless I change it.
My awakening into this future should have been a chance for a new life, but it just promises a living death. With Michael on my side, though, maybe I can save us. He's the only person I can trust.
I hear rumors of others… A secret society is growing. Tension is building.
A rebellion is imminent.
Amazon / iBooks / Nook / Kobo / Goodreads
RELEGATION(Book 3)
The end is near—and I'm fated to save humanity.
I'm feared, yet revered. The presidents are leery of me, but I've read the files. And I know the truth—at least, I think I do. And I'm the one who is going to tell the clones. They deserve to know.
Michael and I have been forced to fight, to kill. We'll do anything to keep our daughters safe and free. But we can't do it alone. There's a rumor about a secret society eager for battle… and we're going to find them. Help them end the government's corruption.
It's my duty, my calling as the first mother of the new world I want to create.
This started with me, and that's where it's going to end.