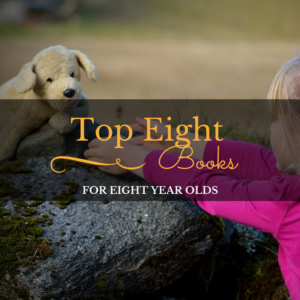 August 28, 2018: Back to School/Learning Freebie (in honor of school starting back up soon, come up with your own topic that fits the theme of school or learning! Books that take place at school/boarding school/during study abroad, books you read in school, textbooks you liked/didn't like, non-fiction books you loved or want to read, etc.)
I can't believe that Miss S has turned eight. This whole god-parenting thing has been an incredible blessing for us. Now that she's eight we can really enjoy a wider range of books together. We now enjoy everything from pictures books to MineCraft guides, to chapter books. Below I'm going to share some of the chapter books we've been enjoying as bedtime read alouds (and one bonus book we've recently found and really enjoy.)
Eight Books for Eight Year Olds:
She's especially enjoyed the books that make her laugh. Sideways School and Tales of a Forth Grade Nothing were big hits. We also read Fudge-A-Mania which is a sequel to Tales, and she loved that one too! The Best Christmas Pageant Ever is a classic for Christmas time and funny too. Roger is Going Fishing is one she's read aloud herself time and time again. It's a very cute book with lots of action going on on the pages.
What would you add to this list? Are there any chapter books you'd suggest for bedtime read alouds? Please leave me a comment and let me know.