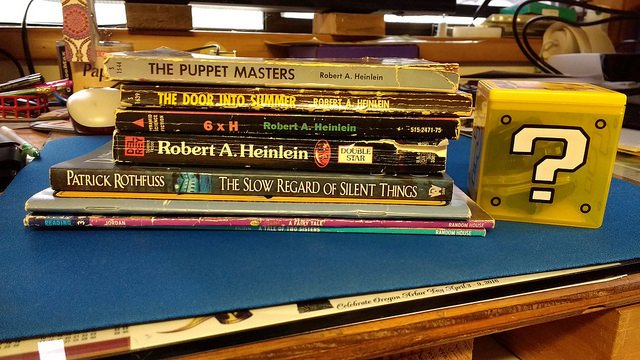 What a crazy couple of months… Beside our move out to the farm being ongoing, my grandfather passed away on October 21st.
It was also a banner time for picking up books; from the Sci-fi and Fantasy Giveaway Party, to my birthday, to some thrift store finds, to discovering a site for free books. In fact, the book picks ups will continue when little bug's school book fair begins on Monday, but I'm going to leave those books for the next pick up blog.
For Kindle:
Venom and Vanilla
Why I got it: It was my Kindle First selection in October. Normally I don't like urban fantasy, but this one was tongue in cheek enough and mixed in Greek mythology so I went for it.
Everything, Everything
Why I got it: Pretty much every single book blogger I follow has raved about this book, so when it went on sale for $1.99 I picked it up.
Bitterwood (Dragon Age series Book 1)
Why I got it: BookBub, it's dangerous… I try not to look over every email they send, but well I just can't bring myself to unsubscribe. Also this book is about a world where human's are enslaved to dragons, sounds right up my fantasy alley.
A Pirate's Charm (Lore Book 1)
Why I got it: Ravenswood Publishers is having a holiday sale and all their e-books are $.99. Since they've been so good to me I decided to return the favor and buy a book from them. #TreatYourShelf.
So Wide the Sky (The Women's West, Book 1)
Why I got it: I found out about Instafreebie when I did the Sci-fi and Fantasy party, and found a few other gems through it.
The Call of Agon (The Children of Telm, Book 1)
Why I got it: The cover got me, and the description is about dead gods, and their offspring with mortal women and seems full of mythological themes. #Instafreebie
The Forgotten Wizard
Why I got it: Another #Instafreebie that sounds like a good fantasy adventure story.
eARCs:
The Breedling and the City in the Garden – See my review
Why I got it: It sounded like a good fantasy story, ended up being more historical fiction with a sprinkle of fantasy, but I enjoyed it.
The Last Treasure of Ancient England – Review coming Dec 7th
Why I got it: The author contacted me through my blog's comment feature and asked me to review their novel. This is the first time anyone's done that!
Sci-fi and Fantasy Party:
Why I got them: I participated in the genreCRAVE Science Fiction and Fantasy $1200 Giveaway. One of the ways to enter the giveaway was to sign up for a bunch of author's email lists. As thank-you's many of the authors sent out free copies of their books.
Immurement: The Undergrounders Series Book One
Feral – Many Lives Book 1
Rose Boy
Coal: Book of the Everleaf Series
Courtlight Series Boxed Set (Books 1, 2 & 3)
Gates of Heaven
Coloring Books:
Life in a Medieval Castle and Village Coloring Book (Dover History Coloring Book)
Why I got it: It was a birthday present from my husband.
Everything Beautiful: A Coloring Book for Reflection and Inspiration
Why I got it: It was a birthday present from my mother-in-law.
The Chronicles of Narnia Official Coloring Book
Why I got it: It was a birthday present from my mom… see any trend here. 😀
Misc:
The Puppet Masters, The door into summer, Double Star, 6 x H: Six Shocking Penetrations into the Unknown – Robert A Heinlein
Why I got it: $.99 Early Heinlien books. A pretty good thrift store haul.
Wee Sing Nursery Rhymes & Lullabies
Why I got it: Every Wee Sing book I find at a thrift store becomes mine. Multiple copies are okay, because then when you have a sing-a-long each person can have a copy. At least that's my personal fantasy.
A Fairy Tale (Disney Fairies, Step Into Reading)
Why I got it: We have read the Great Fairy Race about 200 times, so another Step Into Reading book about the Pixie Hollow fairies sounds about right.
A Tale of Two Sisters (Disney Frozen) (Step into Reading)
Why I got it: Who has a six year old girl that doesn't love Frozen? Since we have one at our house and this book was $.50 at the thrift store it made sense to buy it.
The Slow Regard of Silent Things (The Kingkiller Chronicle)
Why I got it: It's been on my wishlist forever, so I used some of my birthday cash to purchase it.
That's it! What have you picked up recently?